The publication invites you to familiarize yourself with the technical characteristics of Weichai (Steyr) WD615 - the engine known as Steyr (modification name) and widespread throughout the world, including ours.
The catalog "Diesel engine Weichai (Steyr) WD615 Euro 2 series" contains a description of the engine parts, as well as a number of wiring diagrams and detailed illustrations that will make it possible to understand independently the nuances of the engine
Weichai Fork crane dimensions 1, 1.5, 2, 2.5, 3 Ton PDF Download
Weichai Fork crane dimensions 4-9 Ton PDF Download
Weichai 495 Series Diesel Engines PDF Manual Download
Weichai Truck Diesel Engine Download
Weichai WD 10 Service Manual Download
Weichai WD 615 Service Manual Download
Weichai WP10 Diesel Engines Euro 4 - Service Manual Download
Weichai WP12 Diesel Engines Euro 3 - Service Manual Download
Weichai WP7 - Service Manual Download
Weichai WP7 - Service Manual Download
Weichai Power is one of the most promising engine factories in Asia. It has at its disposal engineering and design bureaus, testing laboratories, technical centers and modern production equipment. A significant part of the company's income is directed to the development of innovative technologies, the search for new solutions, therefore, the Weichai engine families are regularly replenished with new representatives.
Features of motors:
wide range of capacities;
compliance with environmental standards Euro II - V;
engines are not demanding on fuel quality;
economical;
maintainable;
maintain performance in extreme temperature conditions;
withstand prolonged intense loads.
By the way, the color of the "heavenly" engines is blue, some models are in greenish shades. They are noticeably brighter than their fellow-names.
The company's policy provides for the full provision of consumers with technical and service support. In any region where Weichai Power engines are located under the hoods, there are service centers, customer service offices. Therefore, the owners of equipment with these motors can always buy spare parts and get qualified assistance in repairs.
The level of consumer confidence in the company's motors is vividly illustrated by many examples. Here is one of them. As soon as the drivers tested the MAZ with the Weichai engine, the demand for heavy trucks increased significantly. If in 2016 30 units of such trucks were sold, then in 2017 182 units of equipment were already sold.
The best WEICHAI diesel ICE models for trucks
Weichai WP10.336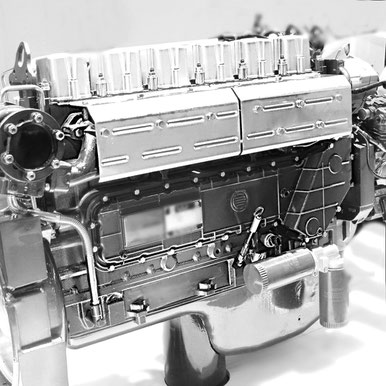 An engine that was built for a harsh life. It is designed for intensive work of dump trucks not only in Asian latitudes, but also in the far north. Runs on Euro III fuel. However, in order to reduce the cost of oil and diesel, craftsmen are reworking the fuel supply system and injection pump, getting a heart beating from Euro II class diesel fuel. And this is done easily.
Specifications
Piston diameter * stroke (mm) 126x130
Working volume (l) 9,726
Power (l / s) 336
Revolutions (r / s) 1900 (2200)
Idling speed (r / s) 600
Fuel consumption (g / kWh) 190
Fuel system BOSCH CB
Truck models
Installed on dump trucks Shacman, Shaanxi, Foton.
Weichai WP 12.420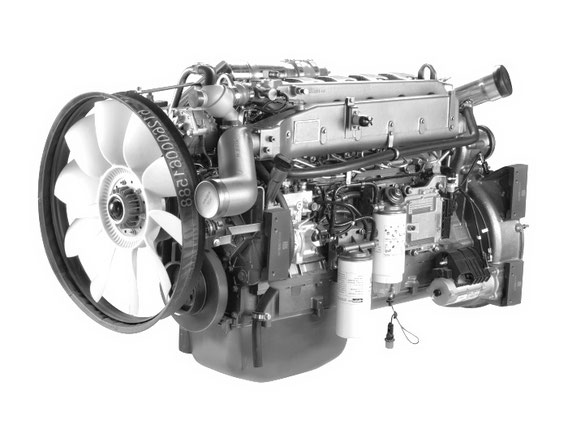 Powerful turbocharged engine for tractors and dump trucks. Equipped with a water cooling system, which prevents the unit from overheating during prolonged intensive work. Four-stroke engine with six cylinders. Complies with Euro II standards.
Specifications
Displacement (l) 9.726
Power (l / s) 420
Revolutions (r / s) 1900 (2200)
Idling speed (r / s) 600
Fuel system BOSCH CB
Truck models
It is used for tractors, dump trucks HOWO, Shacman, North Benz, Beifan Benchi, Beiben Truck, as well as for replacing engines of lower power - WD12, WD615, WP12.
Weichai WP 12.430E50
Advantages of Weichai Motors:
wear-resistant;
resistant to corrosion;
made of quality materials;
do not overheat during prolonged work;
disadvantages
As such, the disadvantages of Weichai motors cannot be determined. The performance and longevity of the unit depends both on the hands of the owner and on the conditions of use. Until now, the prejudice of people towards goods from China has not been eradicated, therefore sometimes not entirely objective labels are encountered. But Weichai engines actually prove their reliability and performance.