2002 DAF 95XF Series Electrical Wiring Diagram Download
DAF - MX Electronic unit pump (EUP) - general manual Download
DAF 1160 PDF User Manual Download
DAF 575 diesel engine Instruction Manual Download
DAF 66 1972 User Manual Download
DAF CF Emergency response guide CF PUB00775-1-EN Download
DAF CF65 PDF service manual Download
DAF CF85 PDF service manual Download
DAF LF, CF and XF105 Bodybuilder's Guidelines Download
DAF Trainee Doc MX-13 Engine Service Manual Download
DAF Vehicle Stability Control 66033-EN Download
DAF Wiring Diagrams for all models Download
DAF Workshop Manual DD DF DT Series Download
DAF XF CF Euro 4, 5 Electrics Wiring Diagrams Download
DAF Systeem- en componentinformatie – XF105 Download
DAF Systeem- en componentinformatie DTCO – XF105 Download
DAF System and component information DMCI – XF105 Download
DAF Test Leseverstehen Modellsatz 02 Download
DAF LF 45, LF55, CF65, CF75, CF85, XF95 DAVIE XD diagnostics manual Download
DAF LF45_LF55 Maintenance Manual Download
DAF LF45, LF55 Series Workshop Manual Download
LF45/55 series Group 0 - Technical Data Download
LF45/55 series Group 1 - Cab Download
LF45/55 series Group 2 - DAF LF45_LF55 Engine Service Manuals Download
LF45/55 series Group 3 - Gearboxes and Clutch Download
LF45/55 series Group 4 - Fuel System Download
LF45/55 series Group 5 - DAF LF45_LF55 Electrical System Download
LF45/55 series Group 6 - Braking System Download
LF45/55 series Group 7 - Steering Download
LF45/55 series Group 8 - Rear Axle Download
LF45/55 series Group 9 - Suspension Download
DAF Special Tools Download
DAF XF105 Service manuals Download
DAF Diagnostics codes XF105 Download
DAF DMCI XF105 Download
DAF DTCO Tachograph XF105 Download
DAF Dynamo XF105 Download
DAF EAS XF105 Download
Electrics DAF XF CF Euro 4, 5 Wiring Diagrams Download
Electrics DAF XF CF Euro 4, 5 Download
DAF Fuel system XF105 Download
DAF Cooling System MX-motor XF105 Download
DAF Lubricating oil System MX-motor XF105 Download
DAF 95 XF series PDF service manual Download
DAF 95XF 2002 Workshop Manual Download
DAF 95XF Maintenance manual Download
DAF 95XF Series Electrical Wiring Diagram Manual Download
DAF 95XF XE engine manual pdf Download
Electrics DAF XF CF Euro 4, 5 Wiring Diagrams Download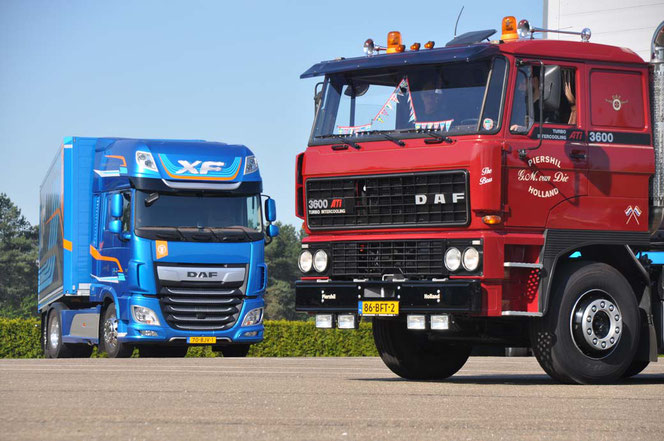 From the steel front bumper to the virtually indestructible headlight covers and the stylish cab interior, DAF has every detail to enhance performance. DAF Trucks N.V. is a division of the North American corporation PACCAR Inc. The main activities of the company are the development, production, marketing and sales of medium and large-capacity commercial trucks.
Another activity of the company is the marketing and sales of light trucks manufactured by Leyland Trucks Ltd. in the UK, which is also a division of PACCAR Inc. All vehicles manufactured by DAF and Leyland are provided with a full range of services both in the purchase and after sales.
DAF also manufactures components for third-party manufacturers, ranging from axles to engines for buses and special vehicles. DAF operates on a "custom made" principle. This means that all cars are made to meet any individual client's wishes, but the production of the car starts only after receiving the order from the client. The customer is a top priority for DAF. Low cost per kilometer, high quality, driver comfort, low fuel consumption, minimal damage to the environment and high transport efficiency characterize all DAF vehicles.
In more than 80 years of its existence, DAF Trucks has earned a reputation as a leader in the production, sales and maintenance of commercial vehicles. Thanks to its high operating efficiency and the production of world-class trucks, the company has achieved a strong position in the European truck market.
The constant striving for innovation and compliance with high quality standards of manufactured products have become the hallmark of the company. Guessing customer desires and maximizing customer satisfaction has always been the key to DAF's success.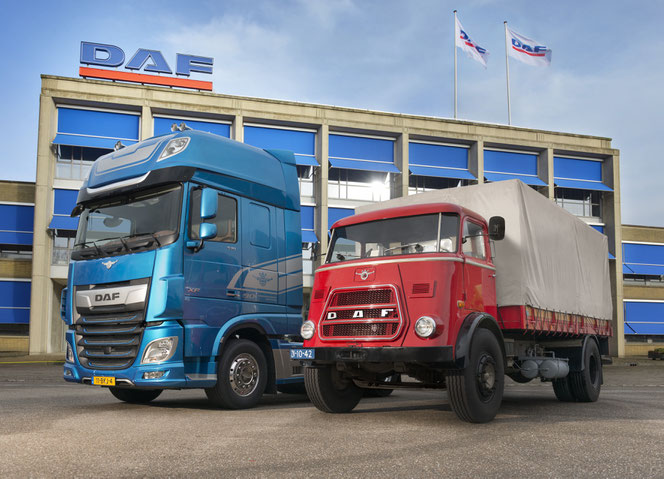 The starting point of the company's development history is 1928, when the brothers Hub and Wim van Doorne laid the foundation for the fastest growing production of trucks in Europe today - DAF Trucks, the name of which is an abbreviation of "Van Doorne's Aanhangwagen Fabriek", which is translated from German means "Van Doorne Automobile Factory".
Starting with the opening of a small forging shop, the family business of the Van Doorne brothers had already by 1932 developed into a full-fledged production of trailers for commercial vehicles. In 1949, the first truck was produced, and a year later the Van Doorne brothers built a new plant of their own and began production of chassis for three, five and six ton trucks.