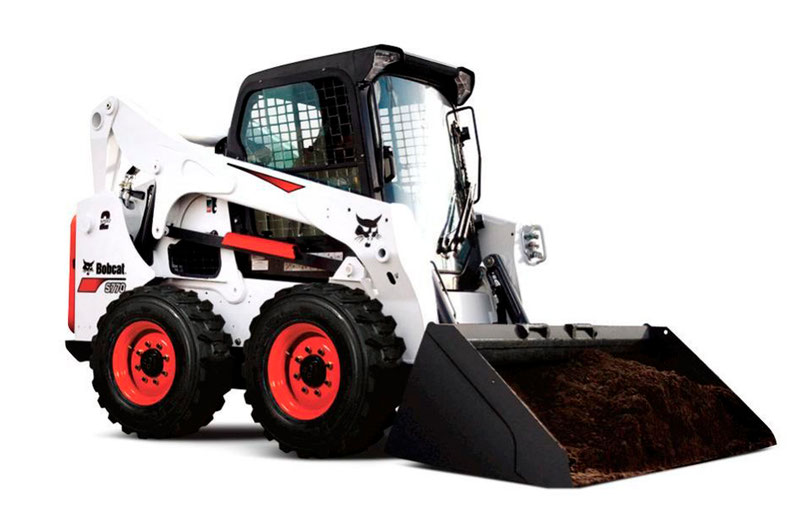 Attachment Catalogue Bobcat. Download
Bobcat AL350 Specs PDF. Download
Bobcat 753 Service Manual. Download
Bobcat 753 Specs PDF. Download
Bobcat 853 Operator Manual. Download
Bobcat Battery Reference Guide. Download
Bobcat Engine Service Manual Kubota PDF. Download
Bobcat Loader A770 Maintenance Manual. Download
Bobcat Loader T190 Maintenance Manual. Download
Bobcat OTDR Manual VD.pdf Download
Bobcat S 150 Maintenance Manual. Download
Bobcat S 220 Maintenance Manual. Download
Bobcat S 250 Maintenance Manual. Download
Bobcat S 530 Maintenance Manual Download
Bobcat s300 service manual pdf Download
Bobcat Skid Steer 450-453-BICS-SM Service Manual PDF Download
Bobcat Skid Steer 743 Operators Manual  Download
Bobcat Skid Steer 753 Service Manual. Download
Bobcat Skid Steer 773 Service Repair Manual Download
Bobcat Skid Steer 873 Repair Manual PDF Download
Bobcat Skid Steer S130 Service Manual PDF Download
Bobcat Skid Steer S150 Turbo Service Manual PDF b Download
Bobcat Skid Steer S175 S185 Turbo Service Manual PDF Download
Bobcat Skid Steer S185 Operators Manual PDF Download
Bobcat Skid Steer S185 Turbo Service Manual PDF Download
Bobcat Skid Steer S205 Operators Manual PDF Download
Bobcat Skid Steer S220 Service Manual PDF Download
Bobcat skid steer service repair manual(Models 741-742-743-742b-743b-743ds-7434s)  Download
Bobcat T2556 Hydraulic Schematic PDF b Download
Bobcat T35120SL Hydraulic Schematic EWD PDF Download
Bobcat Training Part 2.pdf 2Mb Download
Bobcat Utility Vehicle 2200D Operators Manual PDF Download
Bobcat Wheel Loader T35120SL Operators Manual PDF Download
Cargador Compacto Bobcat S-185 Download
Manual Uso a Bobcat 751 753 763 773 773th PDF Download
Bobcat 2225 WHP 05-06 Parts Catalogue. Download
Bobcat Parts List PDF Download
Bobcat Skid Steer 751 Parts Manual PDF Download
Bobcat Skid Steer 753G Master Parts Manuals Catalog Download
Bobcat Skid Steer 773 Parts Manual PDF Download
Bobcat Skid Steer 853 F Parts Manual PDF Download
Bobcat Skid Steer 863G Parts Manual PDF Download
Bobcat Skid Steer 963 Parts Manual PDF Download
Bobcat Skid Steer S250 Parts Manual PDF Download
Bobcat Skid Steer T190 Parts Manual PDF Download
Bobcat 442 Mini Excavator Service Manual PDF Download
Bobcat Excavator 325-328 Service Manual PDF Download
Bobcat Excavator 444 Specs PDF Download
Bobcat Excavator E32 Service Manual PDF Download
Bobcat Cargador (Serie G) Electrical Wiring Diagrams Download
In 1995, Bobcat became a division of Ingersoll-Rand Company, a leading manufacturer of industrial machinery and construction equipment. In 1998 Bobcat was able to expand its product range by launching the 337/341 mini-excavator models with a lifting capacity of 5 tons. Bobcat also acquires Palm Attachment Sales, an American company in the 1980s that manufactures forklift attachments.
In 1999, European factories begin to produce compact loaders (model 864). Among Bobcat's purchases, it is worth noting the French company Sambron SA, acquired in 2000. It has been on the market for a long time and specializes in the production of forklift trucks.
In 2001, the Czech manufacturer of front-end bucket compact excavators equipped with the Superstav backhoe is part of Bobcat. All the same year, the A220 was introduced in Europe, a loader that combines skid steer and all-wheel steering, which is achieved in the operator's cab with a simple flick of a switch. There have never been any analogues of such a model in the world.
In 2002 Bobcat starts production of mini excavators. Further expansion of products was dictated by the latest technology, innovation and investment.
Since 2007, Bobcat has been owned by the South Korean company Doosan Infracore. A new training center and plant has opened in the Czech Republic, which produces new models of telehandlers.
In 2008, the Bobcat company celebrated its 50th anniversary. The interim results and analysis of how the Bobcat brand was created were summarized. The fact is that after the completion of the formation of the concept of skid steer loaders + the constant growth of consumers allowed the company to develop and produce machines with unique characteristics. In the middle of the last century, the main emerging markets were fertilizer producers and dairy farms.
Bobcat experts came up with a simple scheme - to paint the cars in white paint as a symbol of cleanliness and sterility. This color, new logo and company name have become the Bobcat trademark, a mark of success and quality.
Bobcat is today the largest manufacturer of construction and agricultural equipment with more than 900 dealers in more than 75 countries around the world. The main products of the company are compact excavators, attachments and skid steer loaders.
In Europe, Bobcat has strengthened its position with factories and a European Marketing Center in Belgium. All in the same Europe, the name "Bobcat" began to be applied to any loader, regardless of the manufacturer, with which the American company has been struggling for several years.
For over 50 years, much has changed, only one thing has not changed - Bobcat's commitment to professional craftsmanship and the highest quality, which is achieved through innovation and the spirit of pioneers.