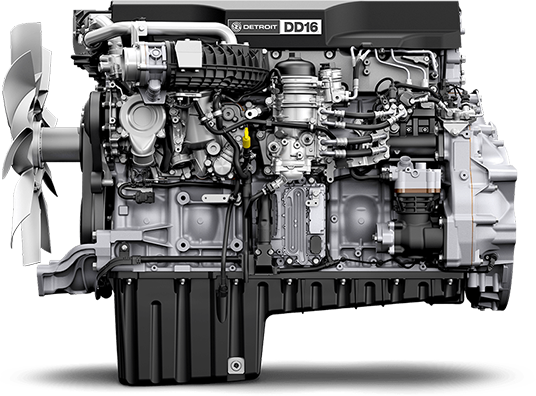 Detroit Diesel DD 13 DD 15 Application Installation Manual Download
Detroit Diesel DD 15 – EPA07 & EPA10 DD Platform, EGR Delta Download
Detroit Diesel DD 15 Engine Workshop Manuals Download
Detroit Diesel DD 15 Manual Del Usuario Downloa
Detroit Diesel DDC-SVC-BRO-0115 fault codes Download
Detroit Diesel 60 Fault Code List Download
Detroit Diesel DDEC 5 Fault Code List Download
Detroit Diesel Engine Ser. 60 Service Manual Download
Detroit Diesel EPA04 Ser. 60 Operator's Manual Download
Detroit Diesel Ser. 60 DDEC VI – Troubleshooting Guide Download
Detroit Diesel Ser. 60 – ECU Manual Download
Detroit Diesel Ser. 60 DDEC II to DDEC IV conversion 18SP546 Download
Detroit Diesel Ser. 60 EGR Technician's Manual Download
Detroit Diesel Ser. 60 Service Manual – Diesel & Natural Gas-Fueled Engines Download
Detroit Diesel Series 60 Tier 3 Technical Specification Download
Detroit Diesel DD Platform Medium Duty – DDC-SVC-MAN-0192_2017 Download
Detroit Diesel s60 Sensors Download
Detroit DD15 Valve Adjustment Download
Detroit Diesel Application  User's Manual – Suite 8.3 Download
Detroit Diesel – Electronic Tools for DDEC VI – Using DDDL 7.0 Download
Detroit Diesel – Unit Injectors and Unit Pumps Technician's Guide Download
Detroit Diesel 8-Cylinder Turbocharged 8V92TA NSN 2815-01-257-3879 Download
Detroit Diesel calibration tool user guide Download
Detroit Diesel DDEC IV Application and Installation Download
Detroit Diesel DDEC Multi-ECM Troubleshooting Manual Download
Detroit Diesel DDEC VI On-Highway – Application and Installation Download
Detroit Diesel DDEC VI Troubleshooting Guide Download
Detroit Diesel Engine DDFP Series Service Manual Download
Detroit Diesel Engine Series 50 Service Manual Download
Detroit Diesel Engine Series 53 Service Manual Download
Detroit Diesel Engine Series 71 Service Manual Download
Detroit Diesel Engine Series 92 Service Manual Download
Detroit Diesel Engine Series V-149 Service Manual Download
Detroit Diesel MBE 926 PDF Manual Download
Detroit Diesel MBE EGR Technicians' Guide Download
Detroit Diesel MBE Electronic Controls Troubleshooting Guide Download
Detroit Diesel MBE4000 Service Manual Download
Detroit Diesel Series 53 Operators Manual Download
Detroit Diesel Series 53 Service Manual 06 Download
Detroit Diesel Series 92 Engine Operator's Guide Download
Detroit Diesel service manual dd15 Download
Detroit Diesel v-71 Section 14 Download
Detroit Diesel-MTU S4000 Service Manual Download
Detroit Diesel  V71 Service Manual Download
Mercedes diesel Engine MBE4000 Workshop service Manual DDC-SVC-MAN1 Download
Detroit Diesel 50-60 Series, 53, 71, 92 AND 149 Series Engines – Replacement Parts  Download
Detroit Diesel Miami SERIES 60 Parts Catalog Download
Detroit Diesel SERIES 60 Parts Catalog Diesel Rebuild Kits Download
Detroit Diesel Spare Parts Catalog Download
Detroit DDEC III-IV Series 60 Wiring diagram Download
Detroit Diesel 60 Engine sensors positions diagram Download
Detroit Diesel DDC-DDEC II Wiring Diagram Download
Detroit Diesel DDEC II and III Wiring Diagrams Download
Detroit Diesel DDEC III-IV Series 60 Injector Harness Schematic Wiring diagram Download
Detroit Diesel DDEC IV Series 60 MY2003 EGR engine sensor harness Wiring Diagram  Download
Detroit Diesel DDEC IV Series 60 MY2003 EGR Vehicle Interface Harness Wiring Diagram  Download
Detroit Diesel DDEC V Series 60 EGR Engine Harness Wiring Diagram Download
Detroit Diesel DDEC V Series 60 Vehicle Interface Harness Wiring Diagram Download
Detroit Diesel DDEC V Vehicle Interface Harness Download
Detroit Diesel DDEC VI Series 60 MCM – Electrical Wiring Diagram Download
Detroit Diesel DDEC VI Series 60 MCM EGR EPA07 (CPC) Vehicle Interface Harness (VIH) Wiring Diagram Download
Detroit Diesel DDEC VI Series 60 MCM EGR EPA07 Common powertrain controller (CPC) Wiring Diagram Download
Detroit Diesel Electronic Control Download
Detroit Diesel Diagrama de Arneses DDEC Download
Areas of use for Detroit Diesel engines
The Detroit Diesel engine range includes power units in a wide power range. They are installed on cars Ford, General Motors, Alfa Romeo, Rover and others. During World War II, the manufacturer was focused on the manufacture of engines for military trucks, armored cars and tanks. Generators, boats and small ships for paratroopers were also produced. Today Detroit Diesel products are installed on different types of transport:
cars and trucks; agricultural machinery; industrial transport; mining equipment; drilling rigs; buses; military equipment; special equipment, etc.
General description of motors from Detroit
During its activity, the manufacturer Detroit Diesel has released a huge line of motors. The following series are available today:
40E - 6-cylinder engines, produced since 1991. From the first year of production, they are produced with electronic control, which allowed achieving fuel economy and lower vibration. Has modifications 7.6 LTA and 8.7 LTA. Power from 175 to 250 h.p with.
50 - 4-cylinder power units produced since 1993. At the heart are diesel units of the 60th series. In 2000, the ERG system and a turbocharged compressor were added. Power from 250 to 350 "horses".
60 is a popular series of motors that has been produced since 1987. Has a power range from 400 to 600 "horses". The most popular was the 12.7-liter diesel engine with an electronic control system. Since 2001, a 14-liter version has been produced.
71 - 2-stroke "diesel" with a V-shaped configuration. It has been produced since 1938 and has undergone many optimizations over a long time. Available in V or T designs. The first designation indicates a V-shaped design, and the second indicates the presence of turbocharging. There are also modifications L and N. The power of the power units is from 109 to 800 "horses".
92 is a series of 2-pin V-shaped motors with 6-16 cylinders. It is produced in a power range from 253 to 950 liters. with.
149 is a series of industrial V-shaped powertrains. It has been produced since the 60s of the last century. It has several options for the number of cylinders - 8, 12, 16 or 20. Today these Detroit Diesel engines are no longer produced.
2000 - a line created in cooperation with the MTU manufacturer. Manufacturing began in the 1990s. The motors have a capacity of 616 to 2636 "horses" and are used in drilling rigs, road / construction equipment, diesel power plants.
4000 is a series of the most powerful motors, created in collaboration with MTU back in the 90s. This technique is still in demand and continues to be used on the most powerful transport: in drilling rigs, construction machines, etc. The number of cylinders is from 8 to 20, and the power is from 951 to 5846 "horses".
Detroit Diesel engine features include DDEC, electronic control, turbocharger, aluminum pan / valve cover, retarder braking system, etc. All engines have been tested and meet high quality standards.
Detroit Diesel representatives pay a lot of attention to their own developments and the promotion of new technologies. This allowed not only to stay on the market, but also to take a leading position in some areas.
In the manufacturing process, other design features are also used:
Two types of liquid cooled generators. The first is mounted in the cylinder block, and the second is independent.
The cooling system pump is electronically controlled.
Turbocharged compressor and intercooler providing intercooling of the charge air.
 Unit injectors with electronics. Motor control systems - from DDECI to DDECIV.
During its activity, the manufacturer Detroit Diesel has developed a wide range of diesel units. But the most popular are the Detroit Diesel 60 and 50 motors. Briefly consider their features Series 50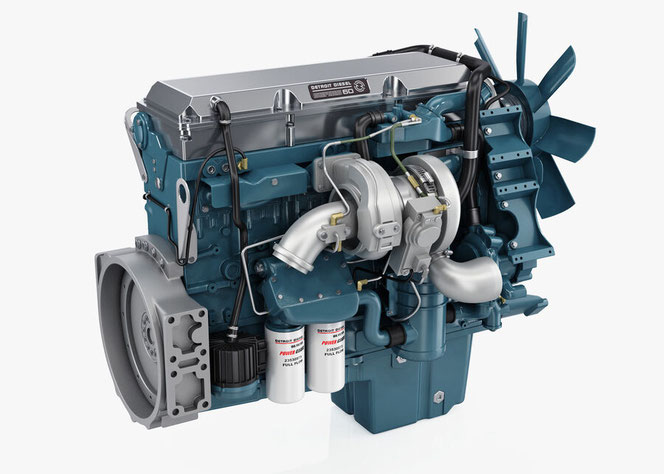 This category includes 4-cylinder diesel power units. Most popular in North America. Most often they are installed on construction / industrial vehicles, trucks and buses. Since 2004, motors of this series have not been used in road transport due to the emergence of stricter regulations regarding toxicity.
Series 60
This category includes 6-cylinder power units. Produced since 1987. Initially, two versions of the Detroit Diesel 60 were produced - for 11.1 and 12.7 liters, but in the late 90s the first version was discontinued. At the same time, 12.7-liter engines are in great demand, thanks to the DDEC system and the ability to personally read the parameters of the motor, change its power and look at the codes of breakdowns. In addition, the system's capabilities allow you to set a maximum speed limit and other parameters.