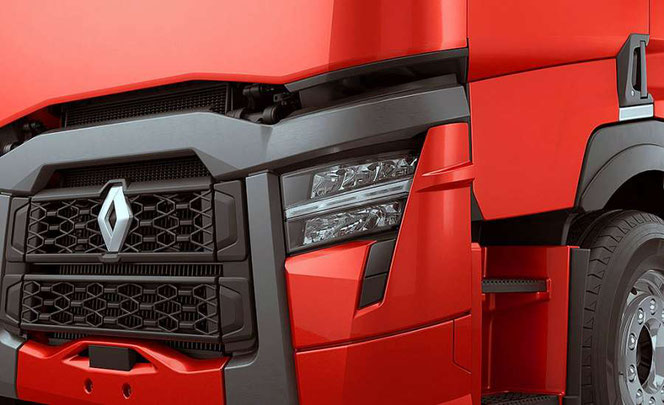 Manual for repair, maintenance, diagnostics and wiring diagrams for Renault trucks.
The repair documentation for trucks Renault Magnum 390, Renault Magnum 430, Renault Magnum 470 provides information on the repair and maintenance of trucks Renault
The publication contains a manual for the repair of trucks RENAULT MAGNUM AE 380, 385ti, 390, 420ti, 430, 470, 500, 520, 560 and E-TECH 400, 440, 480.
MIDR 06.24.65 engine (installed on MAGNUM AE cars)
MIDR 06.24.65 engine (installed on MAGNUME-TECH vehicles since May 2000)
EE 9 560 VG2 engine (installed on cars from April 1996 to May 2000)
Electronic Engine Control (VMAC)
Gearboxes B8, B9 and B18
The book will be useful to all owners of RENAULT MAGNUM cars of various configurations, specialists working in the field of auto repair, as well as everyone interested in trucks of this class.
Renault KERAX DXi PDF Download
Renault Kerax 380 Download
Manual Reparación Kerax  13 055 - SP -11/2006 PDF Download
Renault Kerax 460 Download
Manual RENAULT Kerax Dxi Espanol wiring diagram PDF Download
MR 20660 Motor Dci 11 (02-2004) Download
Renault Trucks Error Codes Download
Renault Trucks Error Codes Download
Braking system devices for Renault trucks Download
Checking and adjusting values of Renault cars 1996-1999 Download
Navigation system TOM-TOM/Instruction Download
Renault Camiva Specification Download
Renault Dokker pdf manual Download
Renault Kerax Dxi Electrical Wiring Diagrams Download
Renault Kerax Engine Workshop Manual Download
Renault Midlum Bodywork Manual Download
Renault MIDLUM PDF Service Manual Download
RENAULT MIDLUM Steering Service Manual Download
Renault Trucks Error codes Euro 3 Download
Renault Midlum - Service Manual, Repair Manual - Wiring Diagrams Download
Detailed information and reference illustrated manual for the operation of Renault Magnum AE / E-Tech / Mack / DXi12 (models 390, 430, 470, 560, AE 385TI, AE 420TI, AE 520). Cars since 1990, since 1996, since 2002 (including restyled versions), equipped with diesel engines EE9 560 VG2 with a working volume of 16.4 liters, engines MIDR06.24.65 1996-2000, engines MIDR06.24.65 A46 / B46 / C46 since 2000 year of release with a working volume of 12 liters. This manual includes the most voluminous and detailed information that is necessary to control the car systems (climate control, heating system, engine, gearbox, lowering and raising both the car frame and the lifting axle, replacing fuses, lamps of the lighting system), operation and maintenance and inspection of vehicles. This manual will always and in any situation be able to provide the necessary amount of information that will give all the necessary support to the owners and drivers of Renault Magnum AE cars.
Renault Premium 320/370/420 dCi PDF Service Manual Download
Renault Premium 330 DXi 11 PDF Service Manual Download
Renault Premium 380 DXi 11 PDF Service Manual Download
Renault Premium 440 DXi 11 PDF Service Manual Download
Renault Premium Bodywork manual Download
Renault Premium DXI450 Wirings Diagrams Download
Renault Premium EDC BOSH Wiring Diagrams Download
Renault Trucks – Premium dxi Engine Control Error Codes MID128. Download
Adblue System and Diagnostics Download
RenaultMagnum Dxi13 Crank Seals and Flywheel Download
RenaultMagnum Dxi13 Cylinder Block Download
RenaultMagnum Dxi13 Cylinder Head Download
RenaultMagnum Dxi13 Engine Torque Settings Download
RenaultMagnum Dxi13 Fuses Relays and Connections Download
RenaultMagnum Dxi13 Rocker And Valve Adjustment Download
RenaultMagnum Dxi13 Rocker Shaft and Camshaft Download
RenaultMagnum Dxi13 Timing Assembly Download
RenaultMagnum Dxi13 Wiring Manual Download
RenaultMagnum Dxi13 Wiring Numbers Download
RenaultMagnum 400/440/480 PDF Service Manual Download
RenaultMagnum Dxi 13 Repair Manual. Download
RenaultMagnum Dxi 17rd/Sd/Td PDF Service Manual Download
RenaultMagnum Dxi12 440-480 Gearbox Workshop Manual Download
RENAULT T / RENAULT T HIGH (4X2, 6X2)
The Renault T long-haul trucks with new comfortable cabins have replaced the Premium (T) and Magnum (T High) models. The cabins are tapered at the front (2.31 m wide at the front and 2.5 m wide at the rear, windshield tilted at 12 °), resulting in a 12% Cx reduction. The ergonomic instrument panel is curved. In 2016, the T series was redesigned - aerodynamics were further improved by 2% (an additional spoiler appeared under the bumper, and the roof spoiler lost its metal frame). The series uses a modular design of a reinforced frame with side members of variable thickness, and the curb weight in 2016 was lightened by 114 kg (including due to the lightweight final drive). For medium haul operations, the base T Series range is designed.
Cab types - Day Cab 1.8 m long, Night & Day Cab low sleeper 2.31 m long or Sleeper Cab 2.31 m long with 2.14 m interior height. The flagship of the new model range is The Renault T High for long-haul and international transport, supplied exclusively with the High Sleeper Cab with a flat floor, with an internal height of 2136 mm, is equipped with a top-end DXi 13 engine, which, since 2016, has received a central injection system as well as an 11-liter unit. The cab of the top 520-horsepower version of the T High Edition, presented in 2016, is equipped with seats and a steering wheel trimmed in genuine leather with stitching in red thread (the exterior of the cab also features a combination of matte black paint with red decals), seat belts in red, steel and carbon inserts on panels and doors. We took special care of the special interior lighting and, although red, but not giving glare instrument lighting. The tractor is equipped with adaptive cruise control and GPS.
The gross weight of the T-series trucks in the chassis version is from 19 to 26 t, in the truck tractor version - from 18 to 26 t (the gross train weight is from 40 to 60 t), the wheel arrangement is either 4x2 or 6x2. serial robotic 12-speed gearboxes Optidriver, numerous electronic systems - adaptive cruise control Optiroll, automatic parking brake when the engine is stopped, warning system for a possible frontal collision, integrated traction control system ECS, system for monitoring the lane on the highway, turning headlights, mountain "assistant" Hill Start Aid and much more.
The line of Euro-5 engines is similar to the C and K series - these are the upgraded DXi 11 (10.8 liters, power 380, 430 or 460 hp) or DXi 13 (12.8 liters, power 440, 480 or 520 hp), transmission - exclusively 14-speed "robot" Optidriver. Since 2016, the T-Series has been equipped with Optivision, an intelligent cruise control system that works with GPS to optimize the propulsion system based on the terrain profile on the route and ultimately save fuel.
RENAULT K (4X2, 4X4, 6X4, 6X6, 8X4)
The heavy duty construction trucks that replace the Kerax series in the new model range are designated Renault K.
This series is equipped with an all-new comfortable 2.5 m cab with a 12% reduction in drag coefficient and a modern interior with increased interior volume , a multifunctional steering wheel with telephone control keys, cruise control, speed limiter and navigation menu, as well as a large 7-inch screen (computer, navigation, media system).
The choice of cabins - day Day Cab (no berth, length 1.8 m) and Night & Day Cab (low sleeper cab 2.31 m long). Cars have a fully steel three-section bumper with a maximum approach angle (32 °) for this class of cars, a turning radius reduced to 9.0 m in three-axle versions, a flat frame in the upper part with straight extra strong side members 8 mm thick, steel fuel tanks for operation off-road, wheels with a diameter of 24 inches.
The K series is offered in chassis variants with a GVW of 19-50 t (GVW up to 100 t) or a truck tractor with a GVW of 19-41 t (GVW of up to 120 t). Suspension options - 3-sheet parabolic (up to 26 t), 11-sheet semi-elliptical (up to 32 t) or 4-sheet parabolic Xtrem (up to 32 t).